Multiple choice and type written maths tests for intermediate level learners
These maths tests are designed to round off your learning experience here at Free Maths Games by testing whether you can correctly recognize the maths you have learned (in the multiple choice test) and that you can correctly enter the correct answers (in the writing test).
Make sure you have chosen the correct topic before starting! Although these tests are timed, try to relax and concentrate on getting the answers right at first - later you can try the tests again more quickly.

The two types of tests are:

A multiple choice quiz to check your recall of the maths
A writing test to check your maths for the selected topic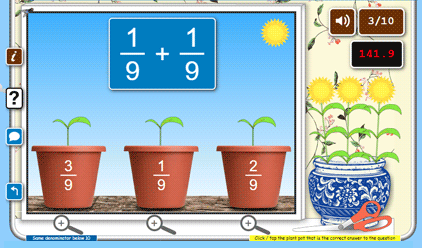 Key features of our maths tests include:
You can do these tests at home (or at school) without the help of a teacher
You can repeat our tests as often as you need to improve your scores
The tests check your comprehension for the topic
The writing test also checks your ability to write / type maths answers for the topic
The tests use all the questions in a topic, so you will see questions that weren't in the lessons..
You should expect to score 8+ / 10 in each test before you select a new topic. It is a good idea to repeat the test for each topic you do after two weeks to "reinforce" the maths for that topic
Duck shoot * The frog flies * Pong * The beetle and the bee
Four in a row * Mix and match * Sow grow
Choose or lose * Cat and mouse * Rock fall